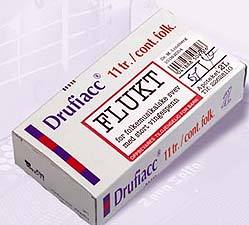 FLUKT


- a soaring flight in an eclectic atmosphere of Norwegian folk music


Håvard Sterten, drums
Sturla Eide, fiddle and hardangerfiddle
Øivind Farmen, accordion


2L23CD

Drufiacc® utviklet av blå rytmerog nordiske strøk med en klassisk aroma
extracted from rhythms of blues and Nordic tunes with a classical scent



01. Felespinn (Sturla Eide) 3:39
Et riff og en enkel låt. Denne oppskriften har vært brukt før. Hva skjer når formelen blir brukt i etfolkemusikalsk uttrykk?
A riff and an unadorned tune. The recipe is familiar. What emerges when the formula is applied to ingredients of traditional Norwegian folk music?



02. Hodalsbrura (etter Jo Gjermunds) 4:34
Mørkt hår og dype øyne, et mollstemt A-parti og et heftig B-parti, duften av kvinne, kvitrende og lunefull, en populær vals og en guttedrøm …
Dark hair and profound eyes, a mellow facade and a furious B-part, the scent of a woman, playful and treacherous, a popular waltz and a boys reverie …



03. Bryllupsgården (trad) 4:38
Sakral bryllupsmusikk kombineres med den tradisjonelle dansemusikken. Inspirert av tittelen på reinlenderen, er denne arrangert som en brudemarsj - eller julesalme om du vil.
Ceremonial music for a wedding is combined with the style from the traditional dancehall.



04. Dimisjonspols (Sturla Eide) 5:02
Polsen ble første gang spilt inn med duoen "Åsmund & Sturla". Derfra ble den snappet opp av Småviltlaget som gjorde den til en kjempehit i både Norge, Sverige og USA. Dette er enn remix fra den originale opphavsmannen.
This pols was first released with the duo "Åsmund & Sturla", but became a hit by the group "Småviltlaget" later on. Now you hear the tune all over Norway, Sweden and the Nordic communions of USA. This is an innovative remix from the original source.



05. Oksenes dans (Øivind Farmen) 4:07
Et slitent, skittent og mørkt lokale fylt med okseliknende mannfolk, kledd i helsetrøyer og med en kroppslukt som vitner om mangeårig manglende hygiene. På scenen står et utskremt band som spiller for livet, mens mannfolkene utkjemper en kamp ved å springe mot hverandre og med full kraft la vommene forsøke å slå motstanderen overende. Den som faller har tapt!
Imagine a scene from dusk till dawn. The dark venue is crowded with men marked by years of neglected personal hygiene, in a battle ramming their beer-swollen tummies at each other with guttural force as the band strikes up. Last man standing is the winner of the game!



06. Bayer & Bananer (Ronny Kjøsen) 2:39
En tidlig morgen etter en sen kveld, satt en noe redusert trekkspiller på en hybel og drømte om nybakt brød med brunost og nysilt melk. Etter mye møye og besvær kom han seg omsider bort til kjøleskapet sitt i håp om å finne noe som kunne likne på drømmen. Dessverre lå det ikke noe annet der enn en klase brune bananer og tre flasker Bayer. I ren frustrasjon komponerte trekkspilleren denne låten.
The early morning vision of fresh milk and a tasteful sandwich is suppressed by the reality of a fridge left with a brownish banana and three bottles of beer. Yesterday's hangover hit the accordionist as he skips breakfast and composes this tune.



07. Vegards Vuggevise (Øivind Farmen) 4:13
Liten gutt, barneseng og godnattsang. Fungerer utrolig bra - Bare så upraktisk at gutten må ha hele FLUKT til stede når han skal sovne.
A lullaby for a boy child. It works - Too bad this little boy requires a whole ensemble to fall asleep.



08. Flaten II (trad) 5:46
Denne "gammelpolsen" etter Anders Flaten er tung folkemusikk som ikke egner seg for sarte 2/4-sjeler. Asymmetrien flyter i rikt monn med små hint om nachspiel.
This old-style pols after Anders Flaten is suited to annoy the soul of steady 2/4-beat. The asymmetry might invite you for a nachspiel.



09 Sjåttis (trad) 2:46
En sigøyner på gjennomreise i Danmark møter de svenske musikerne Bengan Janson og Björn Ståbi. Kulturene smelter sammen og danner en sigøynerinspirert schottis. FLUKT bringer den inn i norske former.
A gipsy meets the Swedish musicians Bengan Janson and Bjørn Ståby in the Danish countryside and a schottis emerges from the melting pot. FLUKT transposes the tune into a Norwegian character.



10. Hallvals (trad) 4:26
Musikken til Hallvard Ørsal speiler et liv i medgang og motgang. Særpreget i spillet hans sier mer enn ord. Man kan undres over hva som stod i tankene til Hallvard da han komponerte denne valsen …
The music of Hallvard Ørsal reflects the dynamic life of the deep valleys and the emotional mountains. His playing says more than words - One may wonder where his mind soared when he composed this waltz …



11. Førdenatt (Eide/Nyhus/trad) 5:54
Fri flyt i de sene nattetimer under Førde Internasjonale Folkemusikkfestival 2003, inspirert av "Trønderrull" (Sturla Eide) "Hedmarksno" (Sven Nyhus) og "Mårråslek III". Sistnevnte i løs form etter Tron Steffen Westberg.
An extract from a jam session that occurred during the Førde International Folk Music Festival in 2003, inspired by tunes composed by Sturla Eide, Sven Nyhus and the playing of Tron Steffen Westberg.


All arrangements by FLUKT
2L Records
distributed in Australia by
Rockian Trading
SACD, DSD & and their logos are trademarks of Sony Corporation