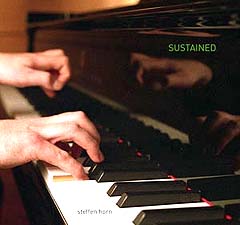 SUSTAINED


STEFFEN HORN piano



2L22CD


Piano Music between Romantic and Impressionism - performed by the superb sonority artist Steffen Horn - a sustained journey in time and space. From the great visions of Chopin in his Ballade no.4 through the caressing waves of Faure's Barcarolles to the exotic world of Debussy's Estampes; Steffen Horn leads his listeners through some of the most beautiful landscapes Music has to offer.



Gabriel Fauré (1845-1924) is one of the most fascinating late romantic musical personalities. Next to his extensive compositional activity he was also a highly valued teacher, among others for Ravel and Enescu, and for 16 years he held the position as director of the Paris music academy. His style of composing had a profound significance on the French composer generations to follow and was of great importance to the creation of the specific French sound, thus becoming one of the most important inspirational sources from which Impressionism would later emerge. His 13 Barcarolles were written between 1882 and 1921, covering most of his active creative period and giving us a quite complete picture of his development as an artist. Formally, the 6/8 time Barcarolle is based on the Venetian Gondoliera alluding the quiet movements of a boat at sea. This was evidently of great inspiration to Fauré, whose entire musical means of expression could be said to rest on soft rippling waves under a prow. Fauré lived in the Romantic period, yet he never became a romantic himself; he paved the way for Impressionism, and yet he never became an impressionist. Nevertheless his music is filled with human passion and warmth, its subtle and refined nuances posing quite a task to the intuitive empathic powers of a performing musician.



This is exactly what distinguishes the Norwegian pianist Steffen Horn and his musical talent: a highly developed sense of sonority based on subtleness, sense of time and energy provide his interpretations with a most unusual power of expression and convincing authenticity. Horn has released several sensational recordings of well-known and lesser-known musical works, putting his refined musicality on display on behalf of the composers in the most compelling way. Horn was born in 1976 and represents the younger generation of Norwegian top rated musicians. He studied at the Barratt Due Institute in Oslo with the Czech professor Jiri Hlinka, won a number of national and international prizes, and enjoys an active career as a recitalist and soloist all over Europe and Asia. Contrary to many of his peers he also takes a keen interest in rarely performed music, and has a particular love for the sonorous piano settings of the 19th and 20th centuries.


Claude Debussy:
ESTAMPES
01. I. Pagodes 5:10
02. II. Soirée dans Grenade 4:47
03. III. Jardins sous la pluie 3:34



Gabriel Fauré:
BARCAROLLES
04. 1ère Barcarolle (La mineur) op. 26 3:46
05. 3e Barcarolle (Sol bémol majeur) op. 42 7:01
06. 4e Barcarolle (La bémol majeur) op. 44 3:34



Frédéric Chopin
07. BALLADE IV f-minor op. 52 10:49
2L Records
distributed in Australia by
Rockian Trading
SACD, DSD & and their logos are trademarks of Sony Corporation