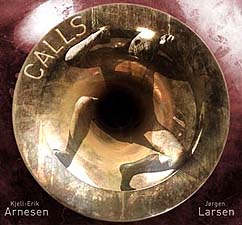 CALLS


Kjell-Erik Arnesen horn
Jørgen Larsen piano



2L20CD


In 1849, Robert Schumann's (1810-1856) most active year yet, the composer started experimenting with the newly developed valve horn. Schumann wanted to explore the new instrument's musical and technical capacities and did so in three remarkable works: Adagio & Allegro op.70 for horn and piano, Konzertstück op.86 for four horns and orchestra and Fünf Gesänge op.137 for male voices and four horns. All these works demonstrate Schumann's uncanny sense of idiomatic perfection, which is all the more astonishing as the instrument in question was a brand new concept. The Adagio & Allegro, which is the first work on this CD, is a typical example of Schumann's singing, romantic style of writing, with its long sections of melody interwoven with jubilant firecracker virtuosity. This work has long established itself as one of the most important works for the horn ever written and is widely performed all over the world.




Kjell Erik Arnesen (b. 1951) is Co-Principal Horn player with the Oslo Philharmonic Orchestra. He has since 1979 been a member of that orchestra. He studied at the State Academy of Music, where he presently is a faculty staff member. Arnesen pursues an active career as a chamber musician and has been a member of the Norwegian Chamber Orchestra and the Oslo Philharmonic Wind Soloists for years. He has also had several appearances as a soloist with these orchestras and ensembles. Between 1980 and 1985 he was a member of the Norwegian Brass Quintet. In 2002 he became the first musician to receive the prestigious Mariss Jansons Award, donated by a foundation within the Norwegian Ministry of Culture.



Pianist Jørgen Larsen (b. 1958) enjoys an active career as a recitalist with performances in Norway, London and Paris. He is also a brilliant chamber musician and has appeared as such in the Bergen International Music Festival and in numerous concert tours. Larsen has been engaged as an orchestra pianist with the Oslo Philharmonic Orchestra and is a member of the Trondheim Quartet. He has received scholarships and prizes and is currently appointed associate professor at the Trondheim Conservatory.


Robert Schumann
01. - 02. Adagio & allegro 4:29 / 5:13



Richard Strauss
03. Andante für Horn und Klavier 4:56



Paul Hindemith
Sonate für Horn und Klavier
04. Mäßig bewegt 5:54
05. Ruhig bewegt 4:53
06. Lebhaft 7:17



Carl Nielsen
07. Canto serioso 4:07



Sigurd Berge
08. Horn-lokk 7:05
2L Records
distributed in Australia by
Rockian Trading
SACD, DSD & and their logos are trademarks of Sony Corporation