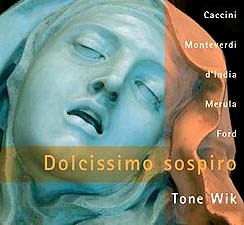 Dolcissimo sospiro


Tone Wik
with
Vegard Lund - theorbe/lute/baroque guitar
Shalev Adel - harpsichord
Bjarte Eike - baroque violin
Sigyn Fossnes - baroque violin
Gunnar Hauge - baroque cello




2L19CD


In the dedication of the libretto that Ottavio Rinuccini wrote for Jacopo Peri's l'Euridice in 1601, he stated: "It has been the opinion of many that the ancient Greeks and Romans sang the entire tragedies on the stage." A few years before the Florentine poet, librettist and courtier had been involved in writing the words to Dafne by the same composer, the very first drama ever to be sung in its entirety 'in the manner of the ancients'.



Peri's new style of 'recitar cantando' was the fruit of a search for a manner of singing, like that of the ancient tragedy, which was neither speech nor song but something in between. …
Anthony Fiumara 2003



Tone Wik
At the age of seven, Tone started singing in the Norwegian Broadcasting Girls Choir. There, particular attention was given to intonation and quality of sound, and years of rehearsals and concerts laid the foundation of her musical education.



Tone Margaret Wik's voice is ideal for chamber music, with a marvellous top register. (Aftenposten 1989)



Having finished her studies at the Norwegian State Academy of Music and the Oslo Conservatory of Music, she developed her interest in early music. This repertoire, with its demands for technical virtuosity and almost instrumental clarity of sound, suited her perfectly. She then moved on to the Royal Conservatory in The Hague, where she studied baroque singing.



Wik sings the coloraturas with the elegance and flexibility of a bird. (Haarlems Dagblad 1992)



Since then, Tone has performed both chamber and church repertoire. She has appeared as a soloist with internationally acclaimed conductors and ensembles. …



Dolcissimo sospiro is her first solo CD.


Dolcissimo sospiro


01. Piangono al pianger mio* (3:51)
Sigismondo d'India (1582-1629)
02. Diana (2:58)
Sigismondo d'India
03. Natività di Christo (3:26)
Biagio Marini (1597-1665)
04. Canzonetta spirituale sopra alla nanna: Hor ch'è tempo di dormire (7:21)
Tarquino Merula (1595-1665)
05. Ohimè ch'io cado (4:45)
Claudio Monteverdi (1567-1643)
06. Aria di Ciaconna: Su la cetra amorosa (7:35)
Tarquino Merula
07. Aria, A una voce. Villanella (1:51)
Paulo Quagliati (1555-1621)
08. Filli, mirando il cielo* (2:51)
Giulio Caccini(1550-1618)
09. Dolcissimo sospiro* (2:05)
Giulio Caccini
10. Non ha'l ciel cotanti lumi* (3:26)
Giulio Caccini
Rinuccini Ron Ford (1959 -)
11. Caro e soave legno* (3:48)
12. Bellissima Regina* (4:47)
13. Udite, udite, amanti* (2:16)
14. Occh'immortali* (4:19)
15. Intenerite voi, lacrime mie* (3:28)
16. Dolcissimo sospiro* (3:07)
17. O miei giorni fugaci* (2:22)
* lyrics by Ottavio Rinuccini (1562-1621)

2L Records
distributed in Australia by
Rockian Trading
SACD, DSD & and their logos are trademarks of Sony Corporation