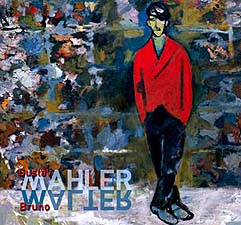 Songs by
Gustav MAHLER & Bruno WALTER


Christian Hilz baritone
Katia Bouscarrut piano




2L18CD


It was in October 1894 that an eighteen year-old Bruno Walter Schlesinger, as he was then known, left the Köln Stadttheater for Hamburg. His illustrious study at the Stern Conservatory in Berlin had the previous autumn led its director Arno Kleffel to appoint his young protÉgé as coach for the opera in Cologne, where he himself had been musical director. Having been known in Berlin as "the little Mozart", the culmination of his nine years of study had been unveiled in March 1893 with the premiere of Schlesinger's own setting of Goethe's Meeresstille und glückliche Fahrt, with the Berlin Philharmonic and chorus. Conducted by the seventeen year-old composer himself, it revealed an extraordinary talent.



The most important aspect of the chorus-master position waiting for Walter at the Hamburg Stadttheater turned out not to be the coaching itself, but the opportunity to work with the city's, and indeed Germany's, leading conductor, Gustav Mahler. It would as well mark the beginning of a close friendship and musical collaboration reaching beyond Mahler's death in 1911 into the decades following in Walter's own life. Inestimably greater than the considerable influence of the conductor Hans von Bülow or the music of Wagner - both of which had had considerable effect on Walter in Berlin, Mahler's personality and composition would never cease to dominate Walter's musicianship.
…
Malcolm Bruno / December 2003



Christian Hilz and Katia Bouscarrut have worked together since 2000 in Liederprogrammes and radio recordings. They have, in their association, uncovered an equal measure of enthusiasm and inquisitiveness for the Lied art-form, expressed as a labour of love in a singleness of imagination. And the radiant contours and personal character of their interpretation is nowhere in better evidence than this, their first collaborative CD.



Christian Hilz, from Franconia in southern Germany, has come to the partnership with Bouscarrut through a great deal of baroque music, especially Bach, along with opera and contemporary repertory. Transparency along with the mutual influence of text and musical line are the centre of his musical work, finding its highest concentration in the artform of Lied. This unfailing musical integrity and critque extends equally to major romantic and contemporary works, like the Lieder eines fahrenden Gesellen, heard on this disc. Beyond a busy concert schedule that includes major festivals and orchestras in Europe and America, he has dedicated himself to teaching, both in Hochschule and masterclasses.



Born in Bordeaux, Katia Bouscarrut's earliest keyboard studies in France led her to the Hochschule für Musik Würzburg and eventually to Indiana University in the US, where she was also repetiteur and lecturer in piano. From her childhood an abiding interest in chamber music has led to collaboration with various artists and groups, but her real exploration of Lieder began in a musical partnership with Christian Hilz, elevating the art-song to a central part of her pianistic life. Bringing a precision of articulation with extreme sensitivity of touch to the demands of accompanying has yielded outstanding results. Katia Bouscarrut also teaches in Hochschule and masterclasses.


Gustav Mahler
— Des Knaben Wunderhorn
01. Nicht Wiedersehen! 4:48
02. Zu Straßburg auf der Schanz' 4:15
03. Ablösung im Sommer 1:51
04. Selbstgefühl 1:51



Bruno Walter
— Drei Lieder von Josef von Eichendorff
05. Musikantengruß 2:10
06. Der junge Ehemann 3:36
07. Der Soldat 1:47
08. Weißt du, wie lieb ich dich hab'? (Hermann Sudermann) 3:55
09. Die Linde (Volkslieder) 2:44
10. Sehnsucht (Des Knaben Wunderhorn) 0:58
11.-13. Tragödien (Heinrich Heine) 1:10 / 3:25 / 2:53



Gustav Mahler
— Lieder eines fahrenden Gesellen
14. Wenn mein Schatz Hochzeit macht 3:59
15. Ging heut' morgen über's Feld 4:35
16. Ich hab' ein glühend Messer 2:58
17. Die zwei blauen Augen 5:37

2L Records
distributed in Australia by
Rockian Trading
SACD, DSD & and their logos are trademarks of Sony Corporation