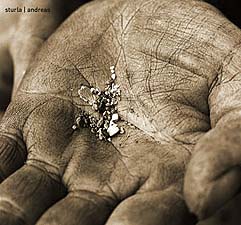 GLIMMER


Sturla Eide (fiddle and Hardangerfiddle)
Andreas Aase (guitar and Irish bouzouki)




2L17CD


The core of the tune — a quiet journey in the intensity of folk music.



Why is there such a thing as traditional music? What makes a set of tunes survive in the collective memory of numerous generations of musicians, creating a common ground?



Hard to say. The righteous work of tireless collectors over the centuries has certainly played an important role, as have the institutions that teach and preserve this music for generations yet to come: Every little ornament, rhythmic detail and twist of the melody can be studied and learned by talented musicians in the making, and by undergoing this arduous, but rewarding process, these young musicians can take their place in the long line of worthy executors of the music from where they grew up.
…
The music on this recording bridges a gap of 150 years, all the way from the crippled farmhand Elling Holstad, whose fiddling wizardry could be heard in the Orkladal region in the 1850s, through the legacy of Hallvard Ørsal who played in the Nordmøre region and in the U.S. in the early - to mid-20th century, we've included a set of tunes composed by the distinguished Røros fiddler and teacher Sven Nyhus, and two of the selections are composed by ourselves.



Sturla Eide (fiddle and Hardangerfiddle) was born in 1975 and has played folk music since he was a child, taking part in competitions where he finally managed to be classified as an A-class fiddler in 1999. He has studied music at the University of Trondheim, and works as a freelance musician specialised in folk music. He also does teaching for children and youths who are learning to play fiddle, violin and guitar. Among Sturla's merits, you can see he has been representing Norway in several occasions abroad. He is also known as an open minded musician, which has lead to quite a few cross-over projects. Sturla is also a composer working in traditional style.



Andreas Aase (guitar and Irish bouzouki) was born in 1967, and has been an active musician in his native city of Trondheim since the mid-eighties. He has been a sideman for many of Norway's pop and folk singers, including Jonas Fjeld, Åge Aleksandersen, Eriksen, Steinar Albrigtsen and many others. He teaches guitar and music theory at the Teacher's Training College (HIST-ALU) in Trondheim, and graduated from the University of Trondheim (NTNU) in 1997.


01. Blå [Blue]
Den blåstemte / Skotsk I grålysningen / Det tømte mjødkruset.
The last two are part of the suite "Gilde i Jutulheimen". All three tunes composed by Sven Nyhus.



02. Ellein
Springleik written down by Peter Wessel in 1875 / Springleik from Elling Holstad.



03. Triangel
Nuptial March from Budal after H.P. Bonesvoll / Grølislåtten, after Erik Almhjell / Springleik after Elling Holstad.



04. Britannia
By Sturla Eide



05. Ril
Skjærholtrilen after Sigurd Fjelstad / St. Anne's Reel / Nuptial March from Budal after Ole Enlid



06. Ane
Tovassvalsen, by Trygve and Hallvard Ørsal / Storpolsdansen, by Hallvard Ørsal.
The latter can be traced back to Gottfred von Eppingen, who allegedly owned the fiddle used by Sturla on this recording.



07. Gilde
Nuptial march after Eirik Almhjell / Springleik after Elling Holstad.



08. Almhjell
Strong tune, strong man - from the repertory of Eirik Almhjell.



09. Polska 56401
By Sturla Eide



10. Nuptial March from Melhus
After Sigrid Sødal, a.k.a. Vassfjelljenta.



11. Meldalsmarsjen
Traditional, influenced by Ragnvald Bolme


2L Records
distributed in Australia by
Rockian Trading
SACD, DSD & and their logos are trademarks of Sony Corporation